Hi there Gamers!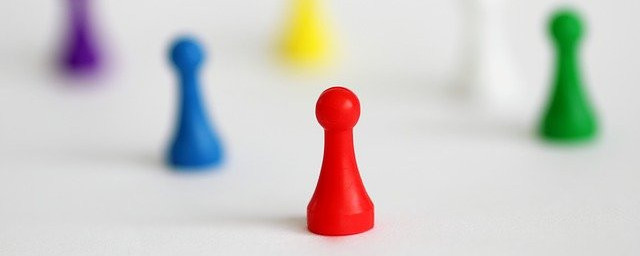 Welcome to my post on the best maths board games for kids.
I've been teaching maths for over 10 years and, although I don't play games with my classes at school very often, I am a big fan and supporter of families playing maths games at home.
---
Boardgamesbren.com is reader-supported – When you purchase through the links in my posts I may earn a small commission at no extra charge to you. Posts are not sponsored. Read my Affiliate Disclosure here. As an Amazon Associate I earn from qualifying purchases.
---
Maths games can be both fun and educational and having maths-y conversations at home with your children can be a great
way to ease them into the subject and help them feel more confident when they get back to the classroom.
I find that most board games support mathematical thinking in some way, whether it is problem solving, logic or arithmetic, but here I will be showcasing my favorite board games for kids which are specifically and unapologetically maths-themed.
Here you will find my favorite maths games for a range of ages so however old your kids are, you will be able to find a suitable game to help them with their maths skills!
Let's get started!
Ages: 5 – 7
No. of players: 2-4
Publisher: Orchard Toys
Time: 10-20 mins
Magic Maths is an awesome little game from Orchard Toys who do a whole range of cute educational games for little ones.
In Magic Maths the players need to solve the problems in order to collect the ingredients for their magic spells. It is a great way to support your KS1 child's basic arithmetic skills in the domains of addition, subtraction and multiplication.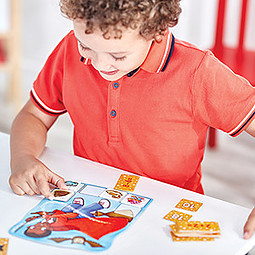 Little kids will love playing wizards and collecting the disgusting spell components they need, from brains and bogeys to frogs and octopus tentacles! A key component of the game mechanics involves just a little magic as well, as the players need to rub the back of their card to reveal the answer to the problem they have been working on – kids really do think this is magic!
Magic Maths is adjustable for different stages of development by including only the addition cards, or subtraction cards or combining them with the multiplication cards as well for extra challenge. The game helps to develop personal and social skills alongside this as players will learn to take turns, share and communicate. It hones observational skills too as they need to check if they have worked out their problem correctly.
Orchard Toys themselves are a truly social enterprise, specializing in fun educational games on a range of topics and a range of stages of development. They are also environmentally conscious, printing all their games on recycled cardboard and paper.
If you have little ones, then you can't go wrong with Magic Maths or any of the other sweet games from Orchard Toys.
Ages: 5+
No. of players: 2-4
Publisher: Learning Resources
Time: 20 mins
My kids and I played Sum Swamp to death when they were little! It is a really simple game which helps children learn simple addition and subtraction. The basic roll-and-move concept is augmented by a third dice with "+" and "-" on the faces, so when you roll, you will have to add or subtract the dice rolls for a score range of 0-12. The kids love this simple mechanic and it teaches them that they will need to subtract the smaller number from the larger number to get a positive result, although It could be extended to include negative results if you wished.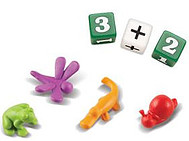 Sum swamp supports number bonds recognition and recall and also introduces odd and even numbers as some of the squares don't let you progress until you have rolled one or the other.
There are two little short-cuts on the board and an 'endless loop' for more entertainment and as it is a game of pure luck, younger siblings won't be put off by constantly being beaten by their older brothers or sisters.
The playing pieces are adorable little swamp creatures and art-work is really fun. My daughter (now 10) came in as I was writing this and remembers the game fondly. Here is her review:
"It's a really good game and you can play it over and over again and you won't get bored – the game has lots of nice colours and cute pictures – I really like the short cuts – helps younger children with their addition and subtraction and have fun at the same time!"
So there you have it! for little kids, you can't go wrong with Sum Swamp!
Ages: 5+
No. of players: 2-9
Designer: David Bullen
Publisher: Sum Fun Games
Time: 20 mins
Sum Fun is another really simple game concept which teaches arithmetic in a fun way. It is basically like Scrabble, or Bananagrams, in that you place tiles, but with Sum Fun you are making mathematical equations instead of words.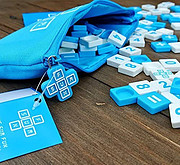 It is adjustable for the stage of development as you can play with just adding, or include the subtracting, multiplying and dividing tiles if you choose, so it should be of benefit to most kids throughout the primary schools phases.
Unlike Scrabble, and just like Bananagrams, players build their own equations simultaneously rather than having to take turns and when everyone is stuck or the tiles run out you compare your creations to see if anyone made any mistakes and to see who got the most tiles down.
Sum fun is a great game if you don't take it too seriously and would work well in schools with small groups. Players at different stages can play together with some players using the multiplication and division and some with just the addition and subtraction.
The tiles can also double up as a general manipulative for supporting the acquisition of number skills both in class and at home. My only complaint, as a maths teacher, is that, although it is called "Sum Fun", not all the expressions will be 'sums', some are differences, products or quotients, but maybe I'm being too pedantic! After all, "Arithmetic Fun" is not as good a name!
Ages: 6+
No. of players: 1-6
Artists: Alonso Jacobo, Matthew Tidbury, Rory Walker
Designer: Matthew Tidbury
Publisher: Think Noodle Games
Time: 30 mins
Best price: £29.99 – Firestorm Games
OK, so if you want something that feels a little more like a proper board game then I'd seriously recommend City of Zombies! It has real game mechanics and super funky artwork and actually this is one of the few board games I've played in school, specifically with a year 11 (15/16 years old) intervention group.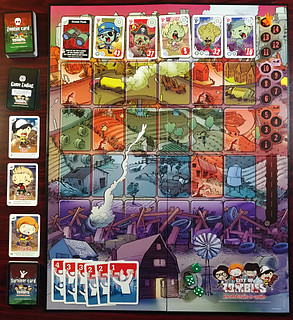 City of Zombie is a really fun, cooperative teen-horror-style game. The players take on the role of various heroes who must defeat the zombies with their maths skills in order to keep the survivors alive long enough for the rescue-place to arrive. There are 18 heroes to choose from, each with cute illustrations, so everyone can find a Hero which resonates with them. And each Hero comes with their own special ability so there are plenty of combinations to keep you entertained for a long time.
The board-art is fantastic and the playing space is divided into several zones each representing an area of land between the 'City', from where the Zombies are pouring out, to the 'Safe Zone' where the survivors are hiding in an old barn. Each turn more zombies emerge from the city and begin moving across the open spaces until they reach the 'Barricade' surrounding the survivors' hide-out. If the zombies get this far then they start eating survivors!
Each round the players take it in turns to shoot zombies by rolling three dice and using their arithmetic skills to match the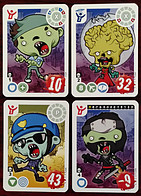 numbers on the zombie-cards. Players can use all four operations and square or square-root their dice to make matching results.
City of Zombies is playable at several levels of difficulty by including different sets of zombies in the deck, and at higher levels you get new game mechanics too. As it is a cooperative game, players can help each other out with the maths and I'm sure you'll all have a blast playing it!
This is a game which will have appeal to older children as well as younger ones, so great for the whole family – highly recommended!
City of Zombies – Buy it here!
Prime Climb
Ages: 10+
No. of players: 1-4
Designer: Katherine Cook, Dan Finkel
Artist: Shawn Kemna
Publisher: Math for Love
Time: 20-45 mins
Best price: £16.87 + £10.59 postage – eBay
Prime Climb is a stylish board game with a simple roll-and-move mechanic which allows players to flex their arithmetic skills. Using 2d10, players must use the four operations to advance along the track towards space number 101 which they must land on exactly to win.
Not only is the artwork very classy, but there is practical and beautiful element to the colouring which shows visually the factors of each number. Prime numbers less than 10 have their own colours and prime numbers over 10 are all red. So as well as simple arithmetic, the game teaches about primes, multiples and factors.
Prime Climb is probably the most competitive of the games highlighted here as, not only is it a race, players can send another player back to the start by landing on them. This is not as frustrating as it can be in other games, though, because you can use multiplication to jump really high along the track. A nice element is that you use the dice rolls in conjunction with your current position number to find as new space to land on, and you can actually move backwards if you want or need to. This means there is also a good chance for strategising and there is a tangible and inherent motivation to practice your number skills.
Math for Love have also produced a number of Prime Climb resources such as a 100 square with all the factor colours included as per the game board so you can integrate it into your classroom, or use at home.
All-in-all, Prime Climb is a fantastic game for supporting older children learn their arithmetic!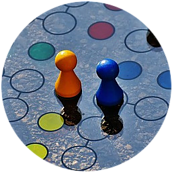 So there you have it, my top 5 maths board games for kids!
Let me know in the comments below if you have played any of these and what you think of them, or if you have any other great maths games you'd like to recommend.
Thanks for reading!
Brendan