Hello wonderful board gaming peeps!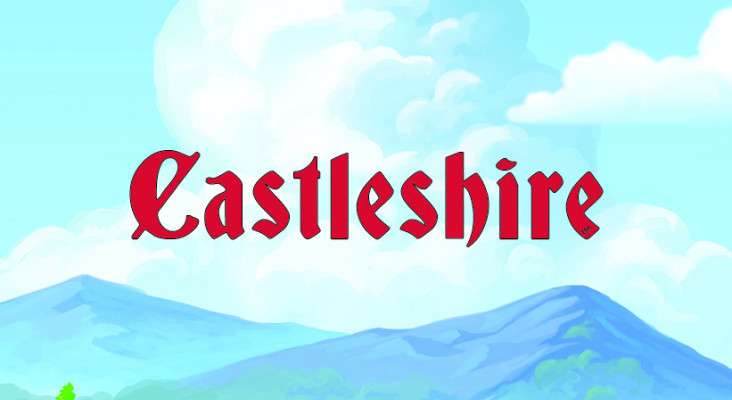 Welcome to my review of Castleshire, the bluffing, memorizing and shenanigans strategy board game!
The lovely folk at Cheap Sheep Games were kind enough to send me a review copy to play test for you – And let me tell you, it was lots of fun!
So, without further ado, let's get stuck in!
---
Boardgamesbren.com is reader-supported – When you purchase through the links in my posts I may earn a small commission at no extra charge to you. Posts are not sponsored. Read my Affiliate Disclosure here. As an Amazon Associate I earn from qualifying purchases.
---
Ages: 10+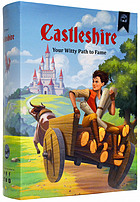 No. of players: 2-4 (up to six with expansion)
Designer: Till Peters
Artists: Janette Ramos, Rebekah Farr, Sam Rodger
Publisher: Cheap Sheep Games
Time: 20-30 mins
Castleshire is a fun, social game of bluffing and laughter! You play as contractors building chambers in the King's castle. There are points available for the most valuable chamber built and a big incentive to cheat your way to victory!
My first impressions of the game were of the gorgeous box which is designed to look like an old book. The artwork is really bright, cheery and fun and the other components are of a very high-quality. More on those later when we talk about the expansions!
The Base Game

The base game comes with everything you need for hours of fun, including several optional 'expansion' rules for greater depth to your game. I really loved this about the design of the game. It felt almost like a 'learn as you play' experience as we began with the most simple version and each time we played we added a new extension rule.
The game is played on a spread of 12 cards in three columns of four representing the three towers of the castle which you will be competing to build. Fame Points are awarded for each worker you have on the play-space at the end of round and also for having your worker on the 'most valuable' chamber.
For such a simple game, there is a lot of strategy in play right from the get-go! The first phase is the 'tender' phase where players secretly bid to see who goes first. Whoever tenders the chamber, or 'Assignment Card' with the highest number places their chamber face up, with a meeple on it, in the castle, on the position with the corresponding number. All other chambers for the rest of the turn must be built higher than this first one. At the end of the round all the chambers built are discarded and tendering begins again.
In this deceptively simple mechanic there is a lot to think about: how many players there are; the chambers you know they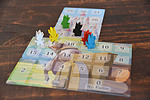 have built already; how many meeples they have; how many chambers you have left in your hand – all these will influence how you bid in the tender phase. Will you bid high to guarantee that you go first and establish a point-scoring meeple straight away? Or perhaps you want to bid low, forcing another player to go first so you have the option to bluff on your turn?
Once the first chamber is down, play continues clockwise with each player placing a chamber and meeple on a position higher than the last. And this is where the real fun begins!
Each player, after the first, places their chamber face down on the towers affording them the opportunity to bluff away their low cards. The other players have the chance to challenge the building player by also placing their own meeple on the chamber – but there are consequences involved!
If the player is bluffing and the chamber number does not match the position on the board then the challenging player or players keep their meeples there whilst the cheating builder's worker is sent back home, tail between their legs! If, however, the builder was honest and the numbers do match, not only are the incorrect challenger's meeples sent home, but the builder can opt to give one of their 'Assignment Cards' to one of the challengers, thereby making life more difficult for that player!
This building and challenging phase is the main course of the game and involves a lot of bluffing, double bluffing, reverse psychology and friendly rivalry! It forces you to pay attention to the cards already played and try to second-guess the strategy of your opponents – and the more players there are, the harder and more hilarious it becomes!
Expansions
There are four sets of rule expansions included in the base game which add new game play elements which are really fun! The first is the Ally cards. These constitute an extra hand of cards with crafty actions such as allowing you to secretly inspect a chamber before you decide whether you want to challenge or allowing you to automatically win the tender phase. These 'Resident Ally' cards add a whole new level of table-turning skulduggery to the game which make the game even more unpredictable and entertaining!
The second expansion forces your workers to miss a turn in the 'Rest Area' after they have been building. This is a great rule as it adds a degree of resource management strategy to the game and how many meeples each player has available at any one time will fluctuate from turn to turn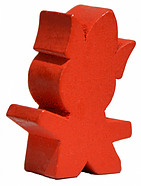 Expansion three introduces the 'Certifer' meeple who allows you to gain more fame by placing a 'certified' face up chamber into the castle. Again, a new strategy will need to be applied here as this will allow you and your opponents to make higher scoring plays. I just love how these rules, if introduced one at a time, really work well together, keeping the game fresh and exciting and gently building up the complexity.
The final base-game expansion introduces the stunningly gorgeous little "Guild Books". These are not only beautiful to look at and hold, but they bring an asymmetry to the game play and really are the gems in the crown of Castleshire!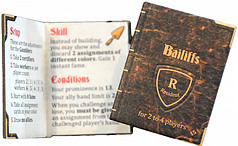 Guild books are assigned randomly to players and change the set up for each player. Some guilds allow you 2 certifiers and some only one and each guild has its starting number of workers. Guilds may allow you to start the game with one or two fame and vary the starting number of allies and even the number of assignment cards in your deck. The best mechanic, however is the unique 'Skill' that each guild has which allows players to take special actions. This makes for much more interesting game play as each player will have to adjust their tactics accordingly.
Extra Editions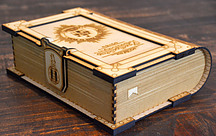 I was lucky enough to play with both the 'Beyond the Realm' and the 'Legendary' editions of the game which add more expansion rules, new ally cards and some extra guild cards to add further variety to the game.
The Beyond the Realm expansion also comes with a beautiful cloth play mat which makes set up so much easier as well as enough meeples and Assignment cards to allow for 6 players around the table.
Final Thoughts
I could go on all day about all the awesome extra rules and the beautifully crafted box and game components but suffice to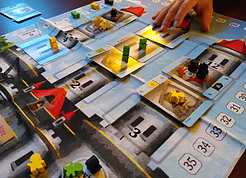 say, this game really delivers on its promise of a fun game of hilarious shenanigans! My kids love it and although it says 10+ on the box, my son, who is 8, got on just fine with it.
My daughter, 11, is just at that age where she is really into the psychology of bluffing and lying and trying to outwit the rest of us. Everyone else I played it with loves it too and I highly recommend it!
Kickstarter
The recent Cheap Sheep Games Kickstarter for Castleshire was a roaring success with 120% funding with stretch goals unlocked and lots of exciting developments in the pipeline – I am particularly keen to see the promised solo-play rules which are due to be complete this August.
If you missed the Kickstarter, don't worry, you can sign up to be notified when their pledge manager opens at which point you will be able to purchase copies. You can find out more about Castleshire and other Cheap Street Games by visiting their website and Castleshire will be in selected stores sometime in 2023, so look out for it!
Let me know in the comments below if you backed Castleshire on Kickstarter, if you've played it and what you thought or tell us about your favorite bluffing games!
And as always, thanks for reading and see you soon!
Bren