Hello board gamers!
Last week I took my kids on a road trip to Cardiff to the Firestorm Games megastore and I can tell you, I was bowled over!
Located on the East side of Cardiff, it is easily accessible via the M4 and very welcoming! The shop is spread out over two floors with loads of tables for gaming, a cafe, a licensed bar and a board games library. What more can you want!
The day we went was a Saturday and there was a Yu-Gi-Oh tournament with about 10 matches playing simultaneously at one end, and a Blood Bowl tournament with as many games again at the other end. And this was just the ground floor! Upstairs there was a 'bring and buy' table sale with collectors selling off their old scenery, unloved minis, DnD collections, wargaming essentials and board games. We were in heaven!
---
Boardgamesbren.com is reader-supported – When you purchase through the links in my posts I may earn a small commission at no extra charge to you. Posts are not sponsored. Read my Affiliate Disclosure here. As an Amazon Associate I earn from qualifying purchases.
---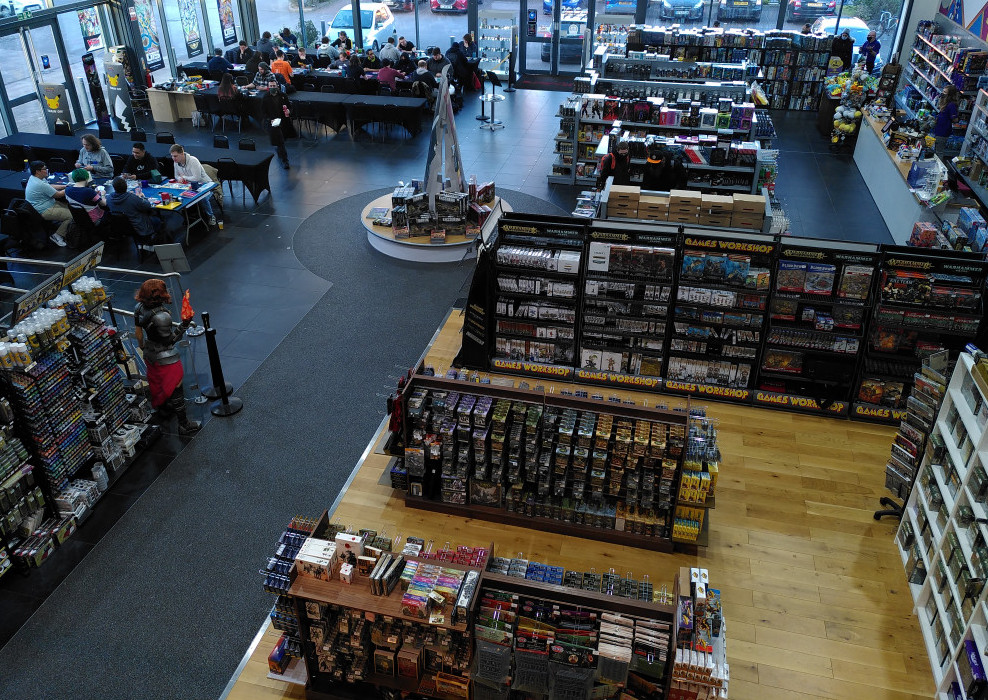 Firestorm have a great location and a huge space which they have laid out really invitingly and coherently. As you come in you have the board games on the left and playing tables on the right. They have a huge selection of board games from quick games like Small Islands, the tile-placing game, to abstract strategy games like Photosynthesis; from deck builders such as Arkwright to a wide collection of escape games such as Exit the Game which I've written about here.
Next to the board games they have a whole isle for DnD accessories including some gorgeous minis, as well as a bunch of other roleplaying games. They have a great selection of trading cards games including Magic the Gathering, Yu-Gi-Oh, Pokemon and Digimon, mostly behind the counter, and then there is all the skirmish games such as Last Days: Zombie Apocalypse, which you can read about here.
Wargame Accessories
On top of all this they have a huge selection of paints and scenery for a wide variety of wargame settings and tons of minis! Whatever your interests, you are bound to find something here which is right up your street!
Wargame Demo
And if that wasn't enough, there was even space for a gentleman we met called Mike who was giving demos of the new fantasy, naval wargame Armada. For any old school gamers out there, Armada is like the old Warhammer Man O' War and comes with gorgeous minis and a bunch of cool mechanics.
Bring and Buy

Upstairs at the bring-and-buy, we grabbed ourselves some absolute bargains! I got this entire hoard for £18! Some second hand paints for £6, a bunch of random minis for a quid, and I just had to snap up this copy of Lost Valley of the Dinosaurs for a tenner!
Not only that, but when the lovely bloke selling it to me heard I that run a Warhammer club at school, he gave me two figures for Age of Sigmar and then threw in this game completely free! The Pioneers Program is a post-apocalyptic town-building game for 3-6 players and I will be writing a full review soon. He said he got the game in a swap he did, but he didn't realize that the guy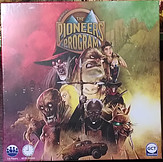 wanted to give him twelve copies of it! So he has been trying to get rid of them all ever since!
Those following the maths closely will realize that this adds up to only £17. The other pound was actually spent in the Firestorm Games charity box where they were selling off some old RPG zines. I picked up the Dungeon Crawl Classics quick start guide. Again, I will write about this one fully in an upcoming blog.
Board Game Library
Once we had perused the shelves and watched the gamers for a while we decided that it was time to grab a table and explore the Firestorm boardgame library. Now this is definitely one of the best things about Firestorm Games Cardiff, you can book a table all day for only £10 for 4 people. Now, technically, we were 6: Myself, my friend Chris and 4 kids under 11, but the staff were accommodating and didn't charge us extra. Now, correct me if I'm wrong, but I think this might be the cheapest deal I've seen at a boardgames cafe anywhere!
OK, so what did we play? Well, having four kids with us ranging from 5-10 limited us to games for younger players, but we found a few gems!
Ages: 5+
No. of players: 2-6
Designer: Derek Weston
Artists: Laura Catasciato
Publisher: Bananagrams Inc.
Time: 5-15 mins
Cobra Paw is a gorgeous little game from the creators of Bananagram. The game consists of 21 beautiful tiles, each with a unique combination of 2 abstract designs, and a pair of matching large dice, with a different symbol on each side. Players take turns rolling the dice to generate a random combination of symbols. The first player to grab the corresponding tile takes that tile into their collection and the first to collect 6 tiles is the winner.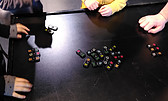 It is such a simple game and it's loads of fun! The age differences didn't seem to matter and everyone enjoyed it. Cobra Paw is a fast-paced, quick-reflexes games which keeps everyone engaged constantly. And the mechanic of being able to steal a tile from another players collection is both frustrating and entertaining in equal measure!
My advice is to keep an eye on your own collection – often we'd got so intent on looking to the middle pile that we forgot about our own tiles and had them snatched from under our noses!
Cobra Paw is a great game that you can be up and running with in 5 minutes and is great fun for the whole family!
Buy Cobra Paw at Firestorm Games here!
Ages: 5+
No. of players: 2-5
Designers: Scott Frisco, Steven Strumpf
Artists: Thies Schwarz
Publisher: Haba
Time: 5-15 mins
Next up was Rhino Hero, another really fun family game! Rhino Hero is a dexterity game involving building a house of cards by taking it in turns to build the next floor. Dead simple in design, it's another hilarity inducing game as the tower gets ever taller and more wobbly! And the winner is the first to get rid of all their roof tiles.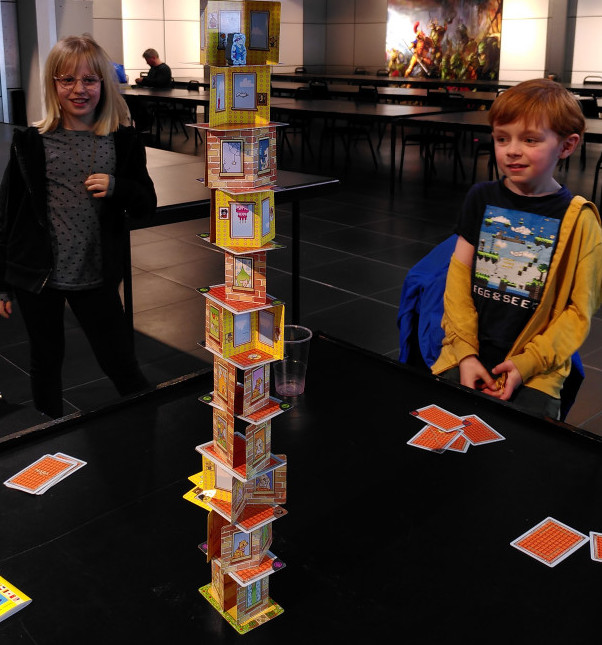 There is gentle competitiveness to the game as you can play cards which allow you to play two roof tiles at once or make your opponents pick up more roof tiles. But the icing on the cake is the cute little Rhino mini. Certain cards allow you to force you opponents to try to move the Rhino from one floor to another which makes for some amusing Jenga-style moments, especially when you get to several floors of tottering cards!
If you have little kids Rhino Hero is an absolute winner, especially if you don't take it too seriously! We made it to 11 floors on our tower – let me know if you can beat that!
Buy Rhino Hero at Firestorm Games here!
Ages: 8+
No. of players: 2-6
Designer: Silvano Sorrentino
Artists: Benedetto Gemma, Paolo Vallerga, Chiara Vercesi
Publisher: CMON Global Limited
Time: 15-30 mins
Not currently available at Firestorm
Best Price: €18.90 – Philibert
Sherlook is a fun, competitive spot-the-difference game where the players take on the role of a sleuth looking for clues at a crime scene. It is for a slightly older age range that the previous two games and takes a fair amount of concentration.
If you have ever played Dobble, than you will be on familiar ground as Sherlook uses similar mechanics which are both simple and genius! There are 49 nearly identical crime scene cards and your group will take two at a time and race to see who can spot how many differences there are between the two images.
Once you think you know how many there are you grab the number card that matches the number of differences you have counted and everyone else grabs a different number card. Three points are awarded for an exact match, two points if your guess is one less than the true value and one point if your guess is one more.
Frustrating and compelling in equal measure, if you want a quick, no fuss mental challenge than Sherlook might just be for you!
The Cafe
While we played we kept ourselves well-fed and refreshed at the Firestorm cafe which does a decent selection of hot and cold foods, tea, coffee and even has a bar! The chips are awesome and come highly recommended!
Home Time
And so, as the sun began to sink lower in the sky, we decided, with a two-hour journey home, it was time to head back. We loaded up our loot and snacks and set off back to Somerset.
And Finally
So to sum up, our visit to Firestorm Games Cardiff was awesome! It is a great venue to visit with the family or with friends, and whatever aspect of gaming you're into, you are bound to find something to float you boat there. Whether it's board games, roleplaying games, wargames or card games, Firestorm has you covered! And the staff and punters were all super friendly, we felt so at home!
Check out their website for upcoming events and competitions: www.firestormgames.co.uk
Next time, we'll be visiting their Swindon store – I'll be reporting back after that trip too, so stay tuned!
Let me know in the comments below if you've been to the Cardiff store and what you purchased. And let us know about your favorite board games cafe – I need more recommendations, I'm thinking of doing a little tour!
Well, that's it for now, thanks for reading!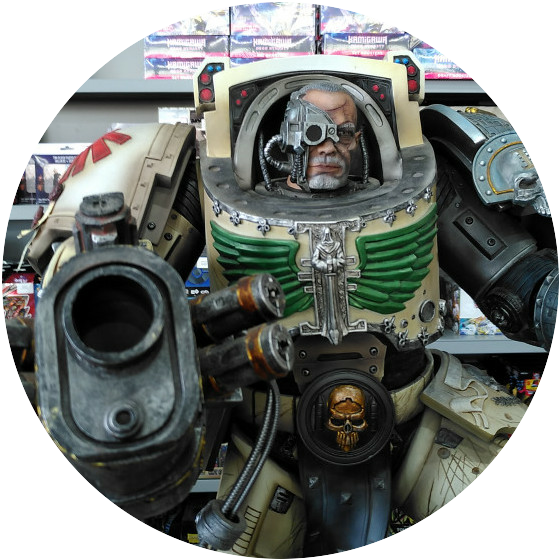 Brendan