Hi there gamers!
So this is the finale of my Top 20 Family Board Games series of posts – Here you will find the top 4 games around right now, according to a combination of what's popular and what I like!
You can find previous posts here:
Let's get stuck into some awesome games!
---
Boardgamesbren.com is reader-supported – When you purchase through the links in my posts I may earn a small commission at no extra charge to you. Posts are not sponsored. Read my Affilliate Disclosure here. As an Amazon Associate I earn from qualifying purchases.
---
If you like solving puzzles then Exit The Game might just be for you! There are tons of titles to choose from, my favorites being The Secret Lab and The Sunken Treasure, but you can choose from many locations from which you can hone your deduction skills. Try escaping from The Polar Station, the Forgotton Island or The Pheaoroh's Tomb!
Exit The Game brings the drama and excitement of an escape room experience right into your living room as you and your team-mates race to solve the puzzles. Each game can only be played once as you will be cutting, ripping, folding and writing on the resources as you try to solve each mystery. But that is not a problem as the games themselves are very cheap and usually retail for around £10 which is a bargain for a couple of hours entertainment for up to 4 people.
Each game is entirely unique and contains ingeniously designed and completely original puzzles which will test your gray matter, team-work skills and logic to their max. There is a point scoring system so you can compare yourself to other groups you know who have played the same game or see if you can beat your score when you play your next Exit The Game.
Points are awarded for speed, but also according to how many hint cards you use, with the maximum being 10 points for completing the whole game in under an hour with no hints – this would literally make you a genius! I average about 5 stars which is around 2 hours and half the hint cards.
The games are really well-designed and can get frustrating but there always the hint cards available so you don't ever get completely stuck. And the production quality is good with interesting game components which you will need to interact with in order to succeed.
Clearly, not everyone likes puzzles, but if you do then you can't go wrong with Exit The Game!
Title: Exit the Game (Various titles)
Publisher: Kosmos
Ages: 10+
No. of players: 1-4
Time: 1-2hrs
Scythe is an absolutely epic strategy engine-building game set in an alternative history of 1920s Europe. The scale of this game is almost unspeakable – upon a huge board mapping out a continent ravaged by war, 5 asymmetric powers with conflicting goals amass armies, conquer territories, claim resources and command steam-punk war machines.
There is little left to luck in this game as the choices you make will mean the difference between victory and defeat. Strategy is king and the tension mounts as each player gains in power and, as in real-life geopolitics, it is often just as much in the threat of conflict that one's influence lies, as in the reality of full-blown war, which can be brutal for both sides.
Each player must make key strategic decisions at each step: will you upgrade your actions, build new structures, enlist more recruits … each decision will have its consequences, both good and bad depending on the movements of your opponents and due to the almost endless combinations of actions, no two games will ever feel the same.
Each faction has its own specialisms and being able to play with five players is a massive bonus as not many games of this size have scope for more than four round the table. There is even a solo version which is great for helping you get your head around the rules which, although large, are well presented and easy to follow.
Scythe is a big game and it takes time to play, but it is a fully immersive and unforgettable experience. It says for age 14+ on the box, but younger players will be able to access it if they have some gaming experience.
If you are into strategy games then this game will blow your mind! It may not have made it to my #1 slot overall, but it is definitely my top strategy game – I really can't recommend it enough!
Title: Scythe
Publisher: Stonemaier
Ages: 14+
No. of players: 1-5
Time: 1.5 – 2 hrs
Exploding Kittens is a super silly, super fun, easy to learn card game that kids and adults will love! The premise is very simple – don't get blown up! Great for lighthearted family gatherings as everyone can play – no previous experience required as you can pick up the rules straight away.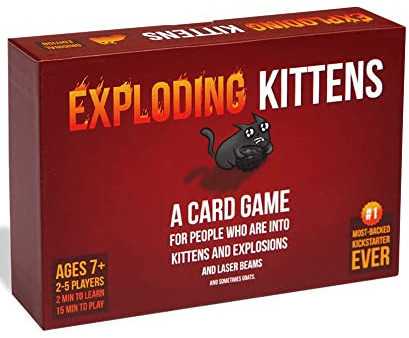 Hidden in the deck are a number of exploding kittens – one less than the number of players – and if you draw one you explode and are out of the game! The winner is the last one standing. It is a fast-paced game during which you must use your cards to avoid the inevitable and each card has amusing text and pictures which will keep you entertained whilst you decide which card to play.
Exploding Kittens is a very quick game and comes in a small box so it's great to carry around with you and to play with the kids or with friends when you're out and about with a bit down-time.
There are a wide variety of expansion packs to keep you entertained, including the 'Party Pack', which allows you to play with up to 10 people, so perfect for larger family gatherings. It's also pretty cheap so it is a lot of fun without breaking the bank!
Title: Exploding Kittens
Publisher: Add Magic Inc.
Ages: 7+
No. of players: 2-5
Time: 15 mins
Articulate! makes our number one spot for best family game. It is an absolute classic with super simple mechanics so you can jump right in without spending ages reading the rules. It is fantastic for extended family gatherings like Christmas and New Year because, as you play in teams, you can play with almost any number of people. It says age 12+ on the box but younger children can get involved and have fun if they team up with older siblings or adults.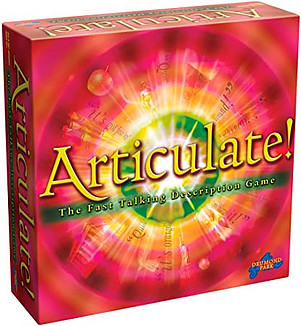 Playability is really simple, just travel around the board picking up cards which have words or names on. Team members have to describe (Articulate!) the word or name on the card without saying what it is and you can gesticulate too – so it is like a board-game version of Charades, with talking – and there is an added pressure as you need to describe your word in under 30 seconds!
Articulate! comes with 500 cards, each with several words on it so it has longevity as a family game as it will be some time before you begin to get repeats.
This is a definite hit for any party occasion and is really inclusive as anyone can get involved. Family members who usually don't like board games are not likely to be put off as it is such a social, active and hilarious game.
Articulate takes the top slot in our Top 20 Family Board Games because whatever your family is like, they are bound to enjoy it!
Title: Articulate!
Publisher: Drumond Park
Ages: 12+
No. of players: 4+
Time: 30 – 60 mins
So there you have it! The Top 20 Family Board Games!
Let me know what your top games are in the comments below and stay tuned for more reviews of awesome games!
Thanks for reading,
Brendan
Conclusion
Content goes here.